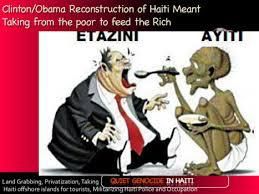 One of the first acts in the new "business-centered" Haiti policy involved suppressing Haiti's minimum wage. A 2009 Haitian law raised the minimum wage to 61 cents an hour, from 24 cents an hour previously. Haitian garment manufacturers, including contractors for Hanes and Levi Strauss, were furious, insisting that they were only willing to agree to a seven-cent increase. The manufacturers approached the U.S. State Department, who brought intense pressure to bear against Haitian President René Préval, working to "aggressively block" the 37-cent increase.
The Clinton-led recovery was a disaster. A year after the earthquake, a stinging report from Oxfam singled out Clinton's IHRC as creating a "quagmire of indecision and delay" that had made little progress toward successful earthquake recovery. Oxfam found that:

…less than half of the reconstruction aid promised by international donors has been disbursed. And while some of that money has been put toward temporary housing, almost none of the funds have been used for rubble removal.

Instead, the Clinton Foundation, IHRC, and State Department created what a Wall Street Journal writer called "a mishmash of low quality, poorly thought-out development experiments and half-finished projects." A Haitian IHRC members lamented that the commission had produced "a disparate bunch of approved projects. . . [that] do not address as a whole either the emergency situation or the recovery, let alone the development, of Haiti." A 2013 investigation by the Government Accountability Office found that most money for the recovery was not being dispersed, and that the projects that were being worked on were plagued by delays and cost overruns. Many Clinton projects were extravagant public relations affairs that quickly fizzled. For example, The Washington Post reported that:

…[a] 2011 housing expo that cost more than $2 million, including $500,000 from the Clinton Foundation, was supposed to be a model for thousands of new units but instead has resulted in little more than a few dozen abandoned model homes occupied by squatters.
Other Clinton ventures were seen as "disconnected from the realities of most people in the poorest country in the Western Hemisphere." Politico reported that many Clinton projects "have primarily benefited wealthy foreigners and the island's ruling elite, who needed little help to begin with." For example, "the Clinton Bush Haiti Fund invested more than $2 million in the Royal Oasis Hotel, where a sleek suite with hardwood floors costs more than $200 a night and the shops sell $150 designer purses and $120 men's dress shirts."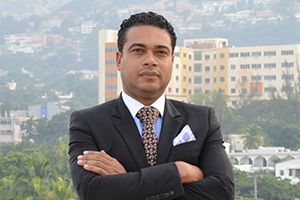 L'actuel député Jerry Tardieu, patron de l'Hôtel Royal Oasis, dans lequel le Fond Clinto/Bush a investi 2 millions de $US
Predictably, the Royal Oasis didn't do an especially roaring trade; The Washington Post reported that "[o]ne recent afternoon, the hotel appeared largely empty, and with tourism hardly booming five years after the quake, locals fear it may be failing." In a country with a 30-cent minimum wage, investing recovery dollars in a luxury hotel was not just offensive, but economically daft. Sometimes the recovery projects were accused not only of being pointless, but of being downright harmful. For instance, Bill Clinton had proudly announced that the Clinton Foundation would be funding the "construction of emergency storm shelters in Léogâne." But an investigation of the shelters that the Foundation had actually built found that they were "shoddy and dangerous" and full of toxic mold. The Nation discovered, among other things, that the temperature in the shelters reached over 100 degrees, causing children to experience headaches and eye irritations (which may have been compounded by the mold), and that the trailers showed high levels of carcinogenic formaldehyde, linked to asthma and other lung diseases. The Clinton Foundation had subcontracted the building of the shelters to Clayton Homes, a firm that had already been sued in the United States by the Federal Emergency Management Administration (FEMA) for "having provided formaldehyde-laced trailers to Hurricane Katrina victims." (Clayton Homes was owned by Warren Buffett's Berkshire Hathaway, and Buffett had been a longstanding major donor to the Clinton Foundation.) The Nation's investigation reported on children whose classes were being held in Clinton Foundation trailers. Their semester had just been cut short, and the students sent home, because the temperature in the classrooms had grown unbearable. The misery of the students in the Clinton trailers was described:

Judith Seide, a student in Lubert's sixth-grade class [explained that] she and her classmates regularly suffer from painful headaches in their new Clinton Foundation classroom. Every day, she said, her "head hurts and I feel it spinning and have to stop moving, otherwise I'd fall." Her vision goes dark, as is the case with her classmate Judel, who sometimes can't open his eyes because, said Seide, "he's allergic to the heat." Their teacher regularly relocates the class outside into the shade of the trailer because the swelter inside is insufferable. Sitting in the sixth-grade classroom, student Mondialie Cineas, who dreams of becoming a nurse, said that three times a week the teacher gives her and her classmates painkillers so that they can make it through the school day. "At noon, the class gets so hot, kids get headaches," the 12-year-old said, wiping beads of sweat from her brow. She is worried because "the kids feel sick, can't work, can't advance to succeed."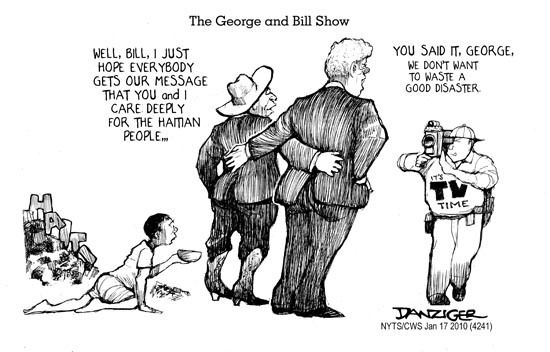 A large amount of the money raised by Bill Clinton after the earthquake, and pledged by the U.S. under Hillary Clinton, simply disappeared without a trace, its whereabouts unknown. As Politico explained:

Even Bill's U.N. Office of the Special Envoy couldn't track where all of [it] went—and the truth is that still today no one really knows how much money was spent "rebuilding" Haiti. Many initial pledges never materialized. A whopping $465 million of the relief money went through the Pentagon, which spent it on deployment of U.S. troops—20,000 at the high water mark, many of whom never set foot on Haitian soil. That money included fuel for ships and planes, helicopter repairs and inscrutables such as an $18,000 contract for a jungle gym… Huge contracts were doled out to the usual array of major contractors, including a $16.7 million logistics contract whose partners included Agility Public Warehousing KSC, a Kuwaiti firm that was supposed to have been blacklisted from doing business with Washington after a 2009 indictment alleging a conspiracy to defraud the U.S. government during the Iraq War.

The recovery under the Clintons became notorious for its mismanagement. Clinton staffers "had no idea what Haiti was like and had no sensitivity to the Haitians." They were reportedly rude and condescending toward Haitians, even refusing to admit Haitian government ministers to meetings about recovery plans.
What The Clintons Did To Haiti | Current Affairs
In this excerpt from Superpredator: Bill Clinton's Use and Abuse of Black America, we examine the Clintons' involvement in the country's affairs during Hillary Clinton's time at the State ...
https://www.currentaffairs.org/2016/11/what-the-clintons-did-to-haiti