Recent news reports are not encouraging. The Miami Herald reported this week that that Haiti's incoming President, Jovenel Moïse is under investigation by Haiti's Central Financial Intelligence Unit for money laundering and special treatment in business loans. Moïse will be sworn in on February 7.

Then there is the recent arrest in Haiti of Haitian-elect Senator, Guy Philippe, who has been extradited to the United States as a DEA most wanted fugitive. Philippe's case is on the docket in Florida's Southern District Court in Miami. The recently unsealed indictment by the United States Attorney's Office (USAO) lists charges including a 2005 count of conspiracy to import narcotics; one count of money laundering; and another of engaging in monetary transactions derived from unlawful activity. From 1997 to 2001, Philippe was engaged in a conspiracy to import cocaine into the United States.

The swamp is deep in Haiti and began filling over 200 years ago under French occupation. Now the fetid waters of exploitation and corruption are spilling over into the drug culture on U.S. shores. Why it took so long to arrest Philippe when he was openly moving about in Haitian society is anyone's guess.

The suggestions on how President Trump might begin this effort should come from Haitians and not American beltway pundits. How can Trump help Haiti without additional meddling? The appointment of an Ambassador with deep knowledge of Haiti is certainly the first step, but the real influence on U.S. policy will come from within the inner reaches of the State Department. Many of the career employees there already have their hands dirty.

In that regard we approached three Haitians from various backgrounds with knowledge of history, politics, economics and the social fabric of the country. We asked for creative and practical ideas on how the U.S. might assist Haiti in the future, while loosening the shackles of international meddling and allowing Haiti to tap into the wealth of intellectual and physical resources that she possesses in abundance.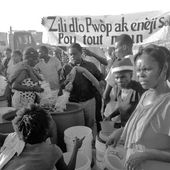 Haitian Leaders Suggest How Trump Can Drain Haiti's Swamp
At noon on January 20, 2017, Donald Trump was sworn in as the 45th President of the United States. In a relatively unpublicized move, all foreign ambassadors were told to leave their posts by the ...
http://www.huffingtonpost.com/georgianne-nienaber/haitian-leaders-suggest-h_b_14415586.html