California border, December 2016
The US-Mexico border witnessed at its doors in 2016 thousands of Haitians who sought to enter the US. At the San Ysidro port of entry alone, south of San Diego, over 5,000 Haitians have arrived since October 2015, compared to 339 people between October 2014 and September 2015.
It takes several weeks for border authorities to process these migrants, and since they cannot go back on their steps, many are at an impasse. Among those who have been accepted into US territory through San Diego or Calexico, many find themselves in precarious situations where language barriers, few shelters and the absence of programs for migrants, carry their weight of consequences.
Although the local community has mobilized itself to assist the migrants, their abilities are wearing thin. Over the last months, the San Diego United Methodist Church's Christ Ministry Center opened its doors to migrants. What started with 20 people rapidly turned into 200 sleeping on the floor, between benches and in the church corridors. The community is overloaded and the lack of space is about to become unbearable. More than a year after the sudden surge of arriving migrants, no emergency measure has been declared.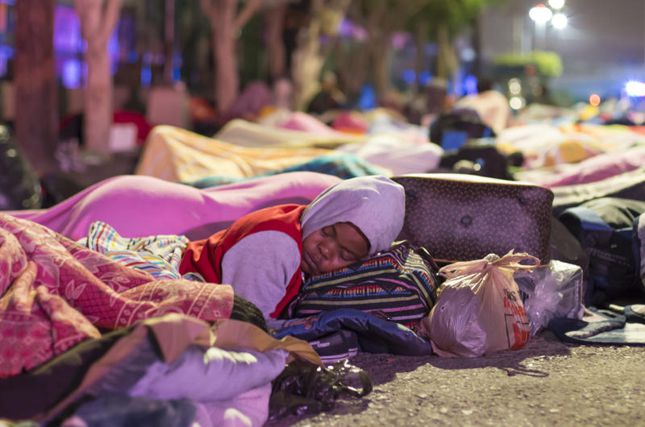 On the Mexican side of the border, in Tijuana, the lack of space is such that hundreds of migrants have decided to move east to Mexicali. A single visit in El Centro, a neighborhood of Mexicali where most of the shelters are located, betrays the magnitude of the migratory crisis. In the shelters, mattresses are thrown against the floor, repainting the cement or parquet flooring. Any space, whether it is a kitchen, a hall, a corridor or even a roof, is used to accommodate people and maximize unoccupied space. When possible, bed sheets are spread out between two pillars to delineate a private space that no longer exits.
The managers of Mexicali shelters also report a lack of space and resources for the migrant populations. While in some shelters medical visits occur each week, such services are not offered everywhere. The lack of space, the absence of intimacy and the anxiety of not knowing the outcome of this journey or the date on which it will end, weigh heavily on these migrants' mental health, whose stay on Mexican soils extends proportionately with the rise of arriving migrants.
Without a work permit but requiring money to survive, the migrants become prey to human traffickers, according to Sergio Tamai, owner of the Hotel Migrantes shelter and an advocate with Angeles Sin Fronteras. According to him, to minimize the abuses and facilitate the insertion of migrants into Mexico rather than risk of deportation, it is necessary to implement a comprehensive migratory policy. Such a policy would allow the migrants to get involved in the city's economic life and receive socio-sanitary services like access to healthcare and housing.
SUITE à :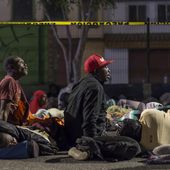 Haitian Migrants at US-Mexico Border: An Exclusive Report
Haiti Chery California border, December 2016 The US-Mexico border witnessed at its doors in 2016 thousands of Haitians who sought to enter the US. At the San Ysidro port of entry alone, south of San
http://www.dadychery.org/2017/01/18/haitian-migrants-at-us-mexico-border-an-exclusive-report/