Dommage.
Encore une fois une article instructif mais en anglais.

Un résumé des actions négatives du président d'alors, Bill Clinton envers Haïti et les Haïtiens.
Un ensemble de revirements, de promesses non tenue et de mauvais traitements.
Au moins comme ça les Haïtiens,qui lisent l'anglais sauront exactement à quoi s'attendre comme calamités avec son épouse à la présidence.
On peut dire avec l'ensemble d'informations fiables que nous avons aujourd'hui que les Clinton ont énormément maltraités les Haïtiens. Et on en comprend d'autant mieux l'assimilation faite par Jonathan Katz et le roi Léopold de Belgique au Congo, à partir non seulement de leur mainmise sur la vie politique et économique mais sur forme de cruauté intentionnelle exercée sur ses habitants.
C'est franchement écoeurant.
Et on comprend aussi parfaitement pourquoi ils ont sélectionné en 2011 Martelly, bandi legal et qu'ils veulent faire de même avec Jovenel Moïse, mafia legal, l'homme aux 14 comptes e nbanque.
If I were president, I would — in the absence of clear and compelling evidence that they weren't political refugees — give them temporary asylum until we restored the elected Government of Haiti.
..............................................................
But shortly after being elected, before he had even taken office, Clinton reversed himself. In what the New York Times called a "bluntly worded" radio address, Clinton announced that:

The practice of returning those who flee Haiti by boat will continue, for the time being, after I become president . . . Those who leave Haiti by boat for the United States will be intercepted and returned to Haiti by the US Coast Guard.
Bill Clinton continued the Bush policy of keeping refugees at Guantanamo indefinitely. But Clinton introduced a new policy as well: testing the Haitians for HIV, and segregating those who tested positive. In doing so, he created "the world's first HIV detention camp."

Conditions in the HIV camp were horrific. The facility was a "leaky barracks with poor sanitation, surrounded by razor wire and guard towers," and numerous detainees were housed in tents. Many of the refugees were gravely ill with AIDS, and the crowded facility was characterized by fear, squalor, and uncertainty.

After being held for more than a year, some of the refugees began a hunger strike. (The military retaliated by putting the leader of the hunger strike in solitary confinement.) Communications home had to be smuggled out. As one refugee wrote in a letter to her family, "I have lost in the struggle for life . . . There is nothing left for me. Take care of my children, so they have strength to continue my struggle . . . I have lost hope. I am alone in my distress." Another recalled:

We had been asking them to remove the barbed wire; the children were playing near it, they were falling and injuring themselves. The food they were serving us, including canned chicken, had maggots in it. And yet they insisted that we eat it. Because you've got no choice. And it was for these reasons that we started holding demonstrations. In response, they began to beat us. On July 18, they surrounded us, arrested some of us, and put us in prison, in Camp Number 7 . .&nbsp. Camp 7 was a little space on a hill. They put up a tent, but when it rained, you got wet. The sun came up, we were baking in it. We slept on the rocks; there were no beds. And each little space was separated by barbed wire. We couldn't even turn around without being injured by the barbed wire.
linton's record on Haiti did not get better. While the administration publicly opposed the removal of President Aristide, it covertly supported the right-wing death squads that had supported the coup. The leader of the brutal Front for the Advancement and Progress of Haiti (FRAPH), Emmanuel Constant, had been on the CIA's payroll for years. American officials admitted to both working with him and encouraging him to form FRAPH in the first place.

US intelligence called him "a young pro-Western intellectual . . . no farther right than a Young Republican" even though his organization was, as sociologist William Robinson explains, a "well-organized instrument of repression, operating in a death-squad manner to continue the process of decimating popular sector organization" and "bent on preserving an authoritarian political system." The organization "carried out much of the reign of terror that led to the killing of more than three thousand Haitian civilians in three years" and "shot into pro-democracy crowds celebrating Aristide's planned return, killing eight people and wounding many others."

Despite this string of atrocities, the United States continued to provide support to Constant and the FRAPH, some of which was more overt than covert. The Los Angeles Times reported on one of Constant's speaking events:
The Clinton administration attempted to cover up its involvement with FRAPH after Aristide's restoration. When FRAPH massacred pro-Aristide protesters, the United States raided and destroyed FRAPH headquarters. In the process, it seized FRAPH's internal documents and brought them back to the United States. The administration refused to accede to Aristide's request for the return of the documents, which Human Rights Watch said contained "intact evidence of death-squad crimes."

The withholding of the documents was reportedly an effort to keep the CIA's links with the FRAPH a secret; the New York Times cited the Clinton administration's "implicit fear that some documents might mention American intelligence links to members of the discredited former Government that ousted Mr. Aristide in a military coup in 1991." The US's refusal was condemned by the United Nations's independent human rights envoy to Haiti, who said he believed that "the US administration is trying to cover up some of its wrongdoing in that period."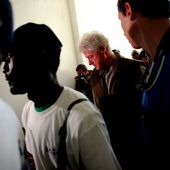 During his term, Bill Clinton used violent and underhanded tactics to promote US interests in Haiti. The following is adapted from the new book Superpredator: Bill Clinton's Use and Abuse of Black ...
https://www.jacobinmag.com/2016/10/haiti-clinton-guantanamo-hiv-aristide-constant/
Dommage encore une fois une article instructif mais en anglais.
Un résumé des actions négatives du président d'alors, Bill Clinton envers Haïti et les Haïtiens.
Un ensemble de revirements, de promesses non tenue et de mauvais traitements.
Au moins comme ça les Haïtiens sauront exactement à quoi s'attendre comme calamités avec son épouse à la présidence.